How To
Learn a song or new guitar technique. Get expert advice on caring for your guitar or shopping for a new instrument. Sample a new musical style or dive deeper into your favorite genre. Check out our latest songs, lessons, and advice below or search the online archives, where you'll find hundreds of articles that will help you improve your playing.
Search by
Songs
Learn to Play "I Had But 50 Cents"
Today's excerpt from Traditional Songs with Jody Stecher invites you to play the first eight measures of "I Had But 50 Cents."
Learn to Play the Classic Jazz Tune "After You've Gone"
Play this eight-bar excerpt of "After You've Gone" (taken from Early Jazz and Swing Songs for Guitar) at a moderate tempo.
Lessons
Travis Picking Basics
In this excerpt from The Acoustic Guitar Fingerstyle Method, David Hamburger introduces us to travis picking and explains the steps involved in establishing the bass notes.
Use the Flatted Fifth in Your Blues Scale Licks
Today's excerpt from Acoustic Rock Essentials shows you three different ways you can use the flatted fifth in your blues scale licks.
Advice
George Lowden On the Tonal Characteristics of Different Woods
The renowned Northern Irish guitar maker discusses the properties of different woods and stresses the importance of choosing the right wood for you.
Presented by Lowden Guitars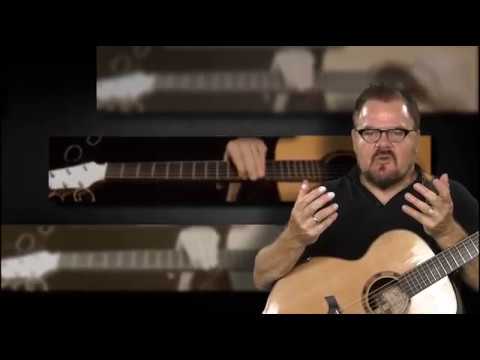 Go Beyond Fingerpicking Patterns
If you feel stuck with playing basic patterns Don Ross' new finger independence series could be just what you need!
Presented by JamPlay.com